Digital Displays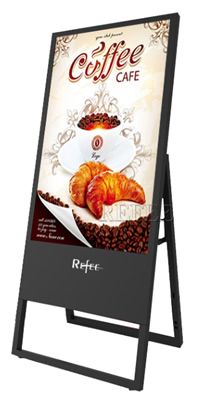 Digital Display Made Easy:
Our displays are available from 7" to 65" inch displays, running at Full HD (1080 resolution). We supply the units in enclosures, with all content managed remotely over the Internet.
Supported Media
Our displays run in beautiful Full HD allowing our clients to not only display their media, but rather showcase their products.The system supports Images, Full HD / SD Video content as well as real-time Web based information, which includes weather / news feeds, syndicated content from other web sites, social media feeds and dash board content.
Scheduling
Need your content displayed on a specific date at a specific time? Our scheduling system allows for content to be scheduled not only by start and end date, but also by start and end time. Future based scheduling allows for content to be setup in advance. Once a scheduled item has reached the end, it's automatically removed from the system without the need for any intervention.
Reporting / Display Status
Having digital displays out in the field is one thing, but knowing if they on and displaying their content is another.We take reporting seriously. Our clients know exactly which displays are currently on and what is being displayed on them. Clients can be configured to receive email notification when a display is turned on or off.Our reporting mechanism allows clients to measure the success of their campaigns in real-time, giving them the flexibility to change their content to suit the viewers demographics.
Enclosures
We are able to provide generic as well as custom enclosures for our displays. These can either be free standing units, or incorporated into your existing infrastructure. Custom displays are of premium quality and can be branded according to the clients requirements. Our enclosures cater for screen sizes ranging from 7 to 85 inch display units.Our generic enclosures come with a built in mounting bracket, anti-theft system and branding space.For clients that have their own existing displays / enclosures, we also offer a version of our hardware that connects directly to your displays HDMI port.
Additional Content
Besides displaying your announcements, regional weather and news feeds are also available.
Social Media
Need to display Twitter data ? Simply add your keyword search or hashtags and allocate the feed to one or all your displays, the system automatically includes the results the next time the display updates.
Content Management
Our management system has been built around two principles, namely ease of use and functionality. Content is uploaded into the central management system and allocated to a playlist. There is no limit on the amount of playlists, or content. Screens are then allocated to playlists, which enables different content to run on different screens in different locations. This gives our clients the ability to display content according to location and audience. Playlists are date range based, which allows for content / playlists to be uploaded ahead of time, once a playlists date range has passed, the content is automatically removed from the allocated displays.
All The Data You Need
Need to know which of your displays are running, how long they been running, and if their content is in sync ? We display all this and more !
Reporting
Don't have time to log into a management system every morning to check on your units ? We'll email you every morning a report of how many of your displays are running, along with which of your displays require attention.
Notifications
For clients requiring up to the minute status notifications, we provide email notifications every time a unit comes back online as well as when a unit has not been available for a predetermined amount of time.
Support
When something goes wrong, it's good to know we are able to support our devices in all major centres country wide. Service level agreements are available for clients that require guaranteed up time.We are able to assist with the installations throughout the country.
For more information, or to request a demo, please contact us at support@ir.co.za